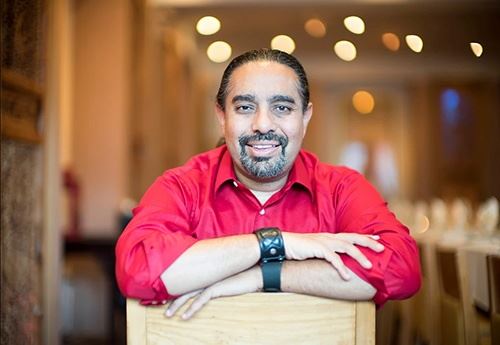 Ramez Naam of Singularity University in Silicon Valley believes Australia, as one of the sunniest and windiest places on earth, has untapped renewable energy potential
Compared to other countries in the world Australia currently has high solar radiation but low installed solar capacity
But as demand for solar increases, technology is improving and prices are dropping which gives Australia the ability to adopt clean energy on a large scale
Naam believes Australia needs to reduce its dependence on coal, oil and gas and realise its potential as a global renewable energy superstar.
American computer scientist and futurist Ramez Naam believes Australia has what it takes to be a global renewable energy superstar.
Naam recently spoke at the SingularityU Australia Summit held at the ICC Sydney Convention and Exhibition Centre. As co-chair of energy and environmental systems at Singularity University in Silicon Valley, Naam gave an optimistic outlook on the rapidly evolving renewable energy sector in Australia.
He pointed out that Australia was one of the sunniest and windiest places on earth, so wind and solar technology presented the country with a great opportunity to be a renewable energy superpower. Naam commented on how the price of wind and solar energy has dropped markedly in the past decade thanks to an increase in renewable energy capacity worldwide.
"Any new exponential technology is super expensive at first, and most consumers cannot afford it," said Naam "but as the scale goes up, the price goes down."
The scale has certainly gone up according to the International Renewable Energy Agency (IRENA). The amount of wind energy globally increased from 17,278 megawatts in 2005 to 467,165 megawatts in 2016. Likewise in 2000 the amount of solar energy produced was 1,248 megawatts, and in 2016 it was 300,000 megawatts.
Australia has the ability to adopt clean energy on a large scale and has untapped 'solar super power' potential, said Naam, especially on the south coast where the winds are some of the fastest on the planet. It also has the highest potential of any country in the world for solar radiation, but this potential according to Naam remains unfulfilled.
Currently Australia only has around 6.5 gigawatts of installed solar capacity, compared to somewhere like Germany, which has lower levels of solar radiation, but 40 gigawatts of installed solar capacity. But, according to Naam, as the price of solar energy continues to drop and storage technologies improve, Australia needs to seriously look at cashing in on solar.
"In nearly every part of the planet, we are looking at some combination of wind and solar being the cheapest way possible to generate electricity," he said.
However much renewable energy could be an asset to the country, it is set to remain low on the political agenda while debates centre around the future of coal. Environmental and community groups have strongly opposed projects like the Carmichael coal mine in North Queensland but the government sees the mine as a source of employment and economic development.
But Naam says the economic case for coal is fast disappearing and calls it a "death spiral". He suggested that Australia needs to stay ahead of the curve by reducing its dependence on coal, oil and gas as these will eventually become economically unviable. He believes investing in clean, cheap resources, such as wind and solar, will put Australia firmly on the global energy stage where it should be.
Source: Eco-Business