Why Solar is Great For Perth Homes
So you're thinking about buying solar in Perth, hey? That's an awesome idea. Perth cops incredible sunshine year round making it one of the best places in the world to install rooftop solar.
That sunshine also makes Perth incredibly hot. We all know Perth is known as the City of Lights but really we should be calling it The City of Airconditioning! Did you know that WA is the second biggest user of air-conditioning in Australia (second only to South Australia) with 73% of West Australians relying on their system to survive the summer months?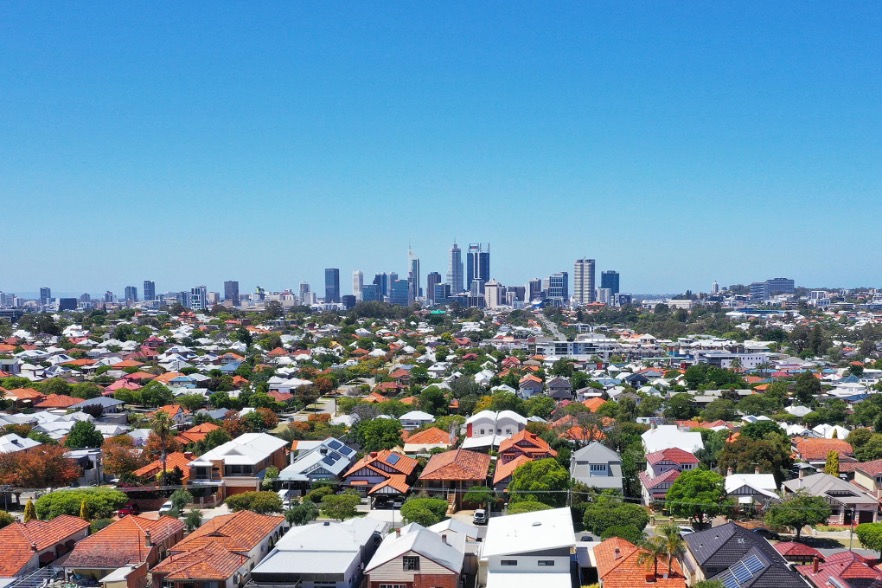 Installing solar in Perth gives you the freedom to run the aircon and the pool pump (plus the electric heater, washing machine, dryer, dishwasher, home cinema…) without the fear of being stung by a massive electricity bill at the end of the month, meaning you experience max comfort with zero guilt.
Now, all that's great, solar makes great sense from a cost saving perspective, we all know that. But before you jump off the deep end and order your new system there are a couple of vital questions everyone should ask themselves so they know they're making the right choice when they buy solar panels in Perth.
Let's get into it.
How Much Does Solar Cost in Perth
The cost of solar panels in Perth depends on the size you're considering, ranging from $3,000 for a 3 kW panel to around $10,000 for 10 kW.
6.6 kW is the most common size for solar panels in Perth, priced at around $5,000 each, although some of the more expensive brands could climb up to $9,000.
The quotes you get from a solar installer will likely already include any subsidies you're eligible for. While there's no additional incentive scheme from the Western Australian government, there are Federal subsidies that will already be deducted from the price you're quoted.
While they're officially called Small-Scale Technology Certificates (STCs), nobody outside the industry actually calls them that (for good reason), so you may have heard of them as the "solar rebate". It acts as a discount on the initial, upfront price of installing solar at your home or business.
The amount of money you can save with the solar rebate depends on your system size. You can calculate your solar rebate using the following steps:
Step 1:
Use this formula to calculate the number of STC's you're eligible for:
For example, if you wanted to figure out how many STCs you are eligible for when purchasing a 6.6 kWh solar system in Perth (a zone 3 location) in 2022 (deeming period 9), you'd do the following calculation to give you a total of 82 STCs.
STEP 2:
Multiply the number of STCs by the market value of an individual STC to get your dollar discount amount. The going rate of an STC ranges from $34 – $40, with $36 – $38 common at the moment.
STCs are available for any household or small business installing a solar system, of up to 100 kW in size, across Australia. Only solar installers who're accredited with the Clean Energy Council (CEC) – like the ones you can find via Solar Market – are eligible to offer STC discounts.
Because your solar installer will calculate the STC discount on your behalf, the price they quote you already includes the subsidy, so don't expect a further discount.
While you shouldn't be pushed to a decision by an overly salesy solar installer, if they tell you there's an element of urgency, they're not entirely wrong. The number of STCs you're entitled to – i.e. how much of a discount you could get – decreases each year on the 1st of January. If you're approaching the end of the year, try to get your order in before New Year's.
The sooner you get your solar system installed, the more money you could save, both in terms of lower upfront costs and an earlier start to slashing your energy bills.
Who Should Get Solar in Perth
We could easily just say that EVERYONE should get Solar Panels in Perth and call it day. Case closed, no need to thank us, enjoy the financial freedom! If only it were that simple.
Don't believe those dodgy commercials that follow you around the internet, and definitely DON'T believe that pushy salesman who's hounding you over the phone. Getting solar in Perth is a great idea for most homeowners but it's definitely NOT for everyone.
Let's go over the steps you can take to cut through the noise and make an informed decision about whether getting solar in Perth is right for you.
Step 1 – Figure out if you're allowed!
This one seems obvious, but in order to be able to install solar in Perth you need to own the property that you're looking to install the system on or have permission from the owner to do so!
If you're the homeowner:
If you're a homeowner getting solar is pretty straightforward. So long as your property meets all the requirements to fit a reasonable system, such as adequate roof space, etc, you should be able to get the ball rolling on your solar installation whenever you're ready.
If you own a home which is part of a strata:
Depending on your strata bylaws you might need to seek permission from the body corporate before installing solar panels in Perth, so check now to avoid a fight with your neighbours in the future!
If you're renting:
Things are a little trickier when you're renting. While you can't schedule to install solar yourself you can make the case to your landlord for them to agree to having one installed. You'll be surprised how receptive some landlords are to the idea. It adds value to their property and makes it more desirable to tenants both now and into the future.
Not to mention solar panels installed on Perth rentals are tax deductible. Win win! If you're renting in Perth and want solar panels make the case to your landlord and see what happens!
Step 2 – Calculate your payback period
Your payback period is the time it takes for the initial investment costs of installing solar to be matched by the savings you'll make from a cheaper electricity bill. Once you're past your payback period you're making pure profit, baby!
So how long does it take to reach your payback period on your solar panels in Perth? Let's look at the factors. Your payback period will depend on…
The cost of the solar system
The size of your system – how much free electricity your solar system generates
The systems orientation to the sun – what times of day it is getting sun and generating free energy
The amount of electricity you consume
The amount that you earn from the feed-in tariffs (from Synergy)
Generally speaking, the more energy that you draw during daylight hours the more bang for your buck you're going to have from installing solar panels in Perth. To get the shortest payback period possible you should try to use as much energy as you can during those daylight hours when your system is productive to minimise how much you are tapping into the grid at night when you need to pay for grid electricity.
Synergy provides a solar feed-in tariff in Perth so you're able to sell back what you don't use to the grid for a credit on your Synergy bill. However, the best return comes from maximising self consumption – use what you produce! You can check Synergy's current Feed-in-Tariff here.
Did you know? As of 1 July 2022, new residential solar systems installed in WA receive the following feed-in tariff:
2.5c with Synergy or 3.0c with Horizon Power per kilowatt-hour of solar electricity fed into the grid as standard
10 cents per kilowatt-hour of solar electricity exported between 3:00 pm and 9:00 pm
Having trouble working out your payback period? We've got you covered. You can use our Solar Repayment Calculator to easily calculate your repayment period. It's free and easy to use!
When To Install Solar in Perth
As Australia's sunniest city, any month of the year can be the right time to install solar in Perth. With so much abundant sunshine all across the year, your solar panels will generate electricity in every season, cutting down your power bills.
Keep in mind we're talking about sunlight, not heat. Even when the temperatures dip down in the middle of the year, Perth still keeps the sun shining. Though many people associate solar power with the summer months, Perth averages 8.8 hours of sunlight across all the days of the year. Winter or summer, either way you can install your solar in Perth and come out laughing.
Want to crank the air conditioner without having to shell out for a massive electricity bill? In this case, make sure you've got your solar system installed before summer – so you can max out on the sunshine and the aircon at the same time.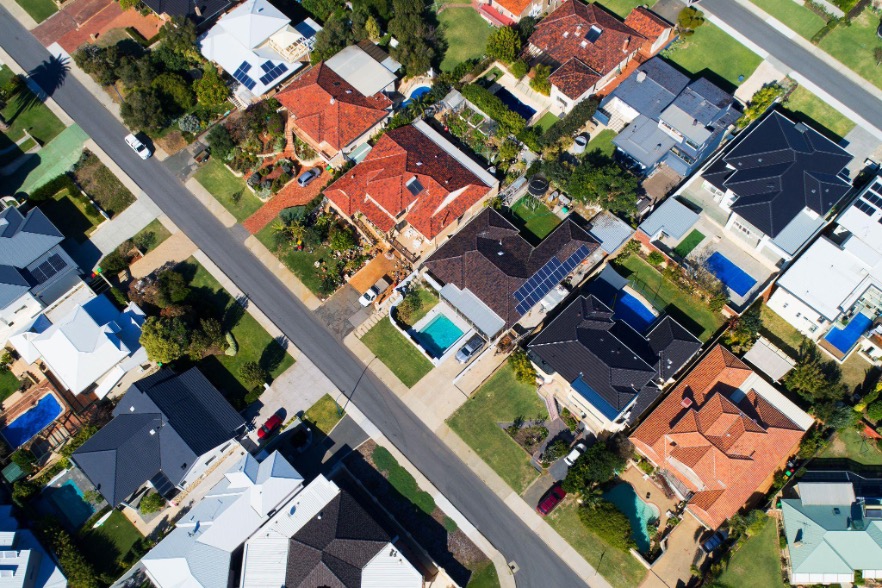 However if you're looking to install solar in Perth without the wait, try the quieter months outside of summer. Every year Aussies rush to install solar at the last minute, just a few weeks before the sunniest months hit full force. As such there can be a little wait for the solar installation team to get around to visiting your property for an inspection, quote and then install.
Did you know? Payback periods for installing solar panels in Perth are super short with many homeowners achieving 2.5 years!
Even though there are fewer sunlight hours per day outside of summer, you may not necessarily see such a steep drop-off in how much electricity is generated. Sweltering heat can actually reduce the efficiency of the solar panels, and even this far south, WA temperatures can rise to scorching levels that affect output. So a solar system could generate more electricity in the mid-20s °C range, like in spring and autumn, rather than the 30s °C range Perth sees in summer.
At the end of the day, solar in Perth is a fantastic investment that will last for decades to come. Whatever season you first installed it in, your solar system will keep powering your household and reducing your power bills.
How To Find Reliable Solar Installers in Perth
First and foremost, make sure your solar installer is a CEC-accredited Installer, and ideally you want to also buy from a CEC Accredited Retailer.
Installer Accreditation with the CEC is an assurance of expertise in solar system design and installation, plus it's a requirement to be eligible for the Federal Government's solar rebate for the system discount. Think of CEC Installer Accreditation as the bare minimum you need when you're on the hunt for a reliable solar installer in Perth.
The next accreditation to look for is a "CEC Approved Retailer". This accreditation covers how they must sell to you and the service they must provide. Avoid door-to-door salesmen and a home consultation is a good idea so they can take a proper look at your roof and you can eyeball them.
In all cases, make sure you trust your solar installation team and have confidence that they're educating you along the way. The more you understand, the better the decisions you can make for yourself, and your installers are the partners to help you with this.
Avoid any pushy sales tactics like the plague! You want the solar system that's best for your needs, not best at lining someone else's pockets. You should be realistic about your energy consumption patterns and budget, and your solar installers should be transparent about your options.
Never feel pressured into signing any deal. If an installer won't stop nagging that you could miss out on a discount or subsidy, keep your eye on the bigger picture – weigh your options and make sure you make the right decision for yourself.
Lastly, age counts. Has your solar installer been around long enough to offer the experience you need? Will the company still exist in the future, if you ever find yourself needing the warranty? You'd need a minimum of 3-5 years to feel like they won't let you down.
Solar in Perth is a great investment, so find a reliable installer and rest easy knowing that your project is in safe hands.
Choosing Solar Panel Installers in Perth
Start off with getting a few quotes you can compare. You can get a feel for the base price you're looking at, especially if you already have the size or brand of the panels and inverters in mind.
Solar panels in Perth usually don't have huge margins to play around with, so if you spot a deal that's far cheaper than the price you've seen other installers offer, that's an automatic red flag. This means you're paying for a poor-quality system or installation by an under-qualified team – and it's only going to end up costing you more in the future. Same if something is priced a lot more and there's not a lot of reviews online to justify the price.
Once you hone in on your top three installers for solar in Perth, ask for a home inspection so they can give you an accurate solar quote. Each roof is different in terms of orientation and shades at different times of day or year. You'll also need to discuss your energy needs with your installers – both how much you use now and how this could change in the future, for example if you're thinking of installing a pool or more air conditioning.
Your solar installers should be knowledgeable and know the ins and outs of their products off the top of their heads. Why do they stock the brands they do? Are they competent at explaining the technical and regulatory aspects of solar to you?
One area of solar you should definitely ask about is the warranties. Warranty servicing for solar in Perth varies hugely from one installer to another, and it can make a difference, so make sure you're clear before signing up. What exactly is covered – just replacement parts and shipping, or the re-install as well? Are we talking parts from the original manufacturer, or can equivalent replacement parts be used?
If you're looking for a reliable starting point for your solar research, use Solar Market to easily find and compare 3 quotes from local Perth solar installers. We ONLY connect you with CEC-accredited solar installers!
Compare accredited solar installers at no hassle!

With Solar Market, we answer all your questions on installing solar on your home. Plus we help you get the best deal on solar panels in Perth in minutes.
How does it work? Glad you asked!
Fill out our quick and easy online form – it takes less than 3 minutes – and we'll connect you with 3 Perth solar installers who will provide you with 3 quotes to compare.
These quotes are totally free and zero-obligation. Best of all because we ONLY work with CEC-accredited installers you can rest easy knowing your system is being installed by a professional.
Solar Market is without question the fastest, most reliable way to be connected to the best providers for solar in Perth.
To get the best deals on solar panels in Perth, use Solar Market now.
FULLY CERTIFIED, ZERO OBLIGATION