Switch to Solar Panels in Adelaide: A Sustainable and Economical Solution.
Hello, Adelaide! Are you considering a switch to renewable energy? Look no further than solar panels, an investment that'll pay dividends for both your wallet and the environment! 
The Advantage of Solar Panels in Adelaide
With its generous sunshine, Adelaide is an ideal place for solar energy. Here's why you might want to take advantage of it sooner rather than later:
Lower Energy Bills: Solar panels can significantly cut down your electricity costs. Check out our

free solar calculators

to easily see

how much solar panels could save you and if solar is worth the investment for your home

.

Green Energy: Solar power is a renewable, clean energy source, reducing your household's carbon footprint.

Energy Independence: Generating your own power provides a degree of independence from your local utility company and fluctuating energy prices.

The Australian Government offers attractive incentives to promote the use of renewable energy. In Adelaide, homeowners can take advantage of the

small-scale technology certificate

(STC) incentive and

feed-in tariffs

, which can help make solar panels a more affordable investment.

 

The South Australian Government also offers additional support for renters and concession card holders with their

incentives for sustainability

. Those eligible can receive: 

 
20% up to $1,000

 


Solar PV system (1.5 kW to <10 kW)

20% up to $2,500

 


Solar PV system (10 kW to <20 kW)

20% up to $5,000

 


Solar PV system (>20 kW)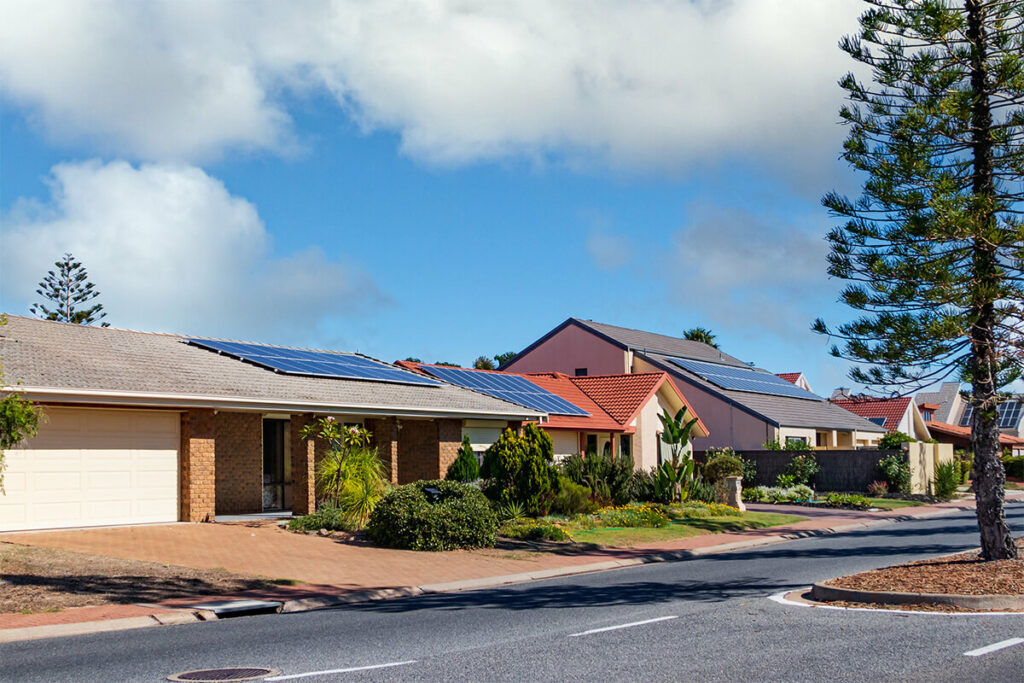 Installing Solar Panels in Adelaide
Transitioning to solar power isn't complicated, especially when you have your solar panels professionally installed.
Want to know how to get started with solar panels? It's as easy as 1-2-3:
Contact certified solar panel installers in Adelaide for a quote. Here's where we can help – Get 3 free solar quotes now from trusted local installers.
Once you've selected an installer, they'll visit your property to develop a detailed installation plan.
Your chosen installer will then handle everything, from the installation of the panels to the connection to the grid.
Choosing Your Solar Panel Installer in Adelaide
Choosing the right installer is essential to get the most out of your solar panels. Here are some factors to consider:
Check for Clean Energy Council (CEC) accreditation. This ensures that they meet Australian safety and quality standards.
Look into their experience and customer reviews.
They should provide a comprehensive and transparent quote and installation plan.
Why You Need Professional Solar Panel Installers
Engaging a professional solar panel installer brings numerous benefits:
Assurance of safe, correct, and efficient installation.
Expert installers optimise your panels' placement to maximise energy production.
They manage any necessary paperwork for permits and applications.
Maximise Your Solar Experience in Adelaide
To get the best out of your solar panels, consider these tips:
Consider installing a solar battery storage system. This allows you to store excess solar energy for use when the sun isn't shining.
Ensure regular maintenance of your solar system. Regular checks and prompt repairs help keep your solar panels at peak performance.
Monitor your solar system's performance to identify any issues promptly.
Embrace the Power of Solar Panels in Adelaide
In conclusion, solar panels offer Adelaide homeowners a cost-effective and environmentally friendly energy solution. With professional installation and the right maintenance, you can tap into this sustainable energy source with ease. It's time to let the sun power your home. Why wait? Go solar today – get 3 solar quotes now and start comparing!
FULLY CERTIFIED, ZERO OBLIGATION