A Revolutionary Battery For Home and Business
Powerwall 2 is designed to store any excess solar energy your PV system produces. This allows owners to power their home or business with free solar energy during the day or night, and can provide seamless and reliable power in the event of a blackout. 
Powerwall 2 also requires no maintenance and comes with a 10-year warranty.
The Tesla Powerwall 2 will also be able to be used for:
How is Powerwall 2 Different?
Powerwall 2 offers 13.5kWh of usable capacity, and comes with an in-built inverter. This allows Powerwall 2 to convert DC power to AC power internally, getting rid of the need for an extra hybrid inverter. This will result in lower installation costs and a much easier installation process.  
Safety and battery life is maximised thanks to the liquid thermal controls and touch safety technology. 
Users can seamlessly monitor and automatically manage your Powerwall, solar panels, Model S or X with the Tesla App.
With over-the-air software updates, Powerwall 2 will continue to improve and adapt to your lifestyle.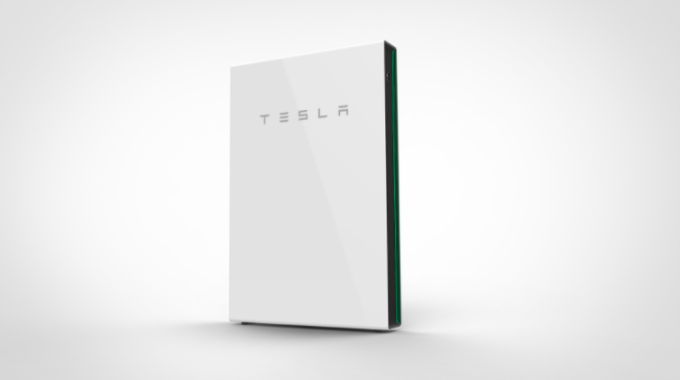 Technology
Wall mounted, rechargeable lithium ion battery with liquid thermal control
Model
14kW
Warranty
10 years
Power
7kW peak / 5kW continuous
Usable capacity
13.5kWh
Supported applications
Solar self-consumption
Time of use load shifting
Backup
Off grid
Scalable
Up to 9 Powerwalls
Operating temperature
-20°C to 50°C
Enclosure
Floor or wall mounted
Indoor or outdoor
Installation
Requires installation by a trained electrician
Weight
264.4lbs / 110kg
Dimensions
1150 mm x 755 mm x 155 mm
Powerwall

FAQs – Inverter/Additional hardware
Powerwall is currently compatible with specific inverters manufactured by SMA, SolarEdge and Fronius.
No. To ensure maximum productivity and ease of installation, Powerwall is only compatible with inverters approved by Tesla. Using an inverter that is not approved will void your warranty with Tesla.
Powerwall can be integrated with existing and new PV installations. However, it's likely you'll need a battery inverter in addition to your existing solar inverter.
Powerwall

FAQs – Installation
Powerwall

FAQs – Operation & Software Control
Powerwall

FAQs – Safety and Environmental
Powerwall is completely safe. Thanks to a highly sophisticated Battery Management System and liquid thermal control system, Powerwall's lithium batteries will always function in a safe manner. In addition, Powerwall has been tested and certified to meet local market safety standards.
Yes. Once a Powerwall has reached the end of its life, Tesla will accept it for recycling back at the Gigafactory.
Under normal operations, Powerall does not pose a fire hazard.
Powerwall

FAQs – Maintenance & Reliability
FULLY CERTIFIED, ZERO OBLIGATION