Pressure is mounting from within the ranks of the back benches of the Turnbull Government to scrap the solar rebates available to homeowners to install solar panels, worth around $4,000 for a 6kW system.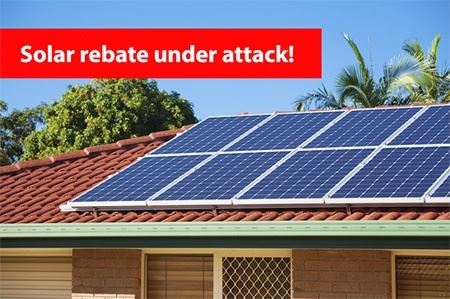 The charge is being led by Tony Abbott who said recently that "Australians are paying far too much for our emissions obsession. Government must end subsidies for new renewables,"
Nationals senator John Williams also said the policy forced struggling families to subsidise rich people's solar installations. "The cost is enormous, renewable ­energy should be made to stand on its own two feet. We've got all the users of electricity paying for this.'' This assertion is contrary to the fact that the solar rebates are utilised predominantly by families in the mortgage belt investing to lower rapidly increasing power bills.
Liberal MP Craig Kelly who chairs the ­Coalition backbench committee for energy and the environment, said the government should halve the value of Small Technology Certificates to $20, followed by another ­halving of it's value in 2019 ­before phasing it out entirely in 2020, a decade earlier than is currently legislated for. This would be devastating for the solar industry in Australia.
If subsidies are ended as Mr Abbott and Mr Kelly demand, prices for a solar panel system will rise by around 40% and greatly increase the amount of time it takes to pay back the initial investment on a system. The current value for the rebate for different system sizes is listed below. If the rebate is removed, system prices will increase by at least this amount.
| System size | Approx # of panels | Rebate value |
| --- | --- | --- |
| 2kW | 7 panels | $1,313 |
| 3kW | 10 panels | $1,988 |
| 4kW | 13 panels | |
| 5kW | 17 panels | $3,338 |
| 6kW | 21 panels | $4,013 |
| 7kW | 24 panels | $4,688 |
Solar is proven to be the most effective measure you can take to reduce your power bills and If you've been considering installing solar on your property, or expanding your current system, now is a good time to ensure that you get access to the rebate as changes may happen quickly and you may miss out.
Since 2010, Solar Market has helped over 250,000 homeowners and businesses compare prices for solar systems by arranging 3 no obligation quotes from installers in your local area who want your business.
We also help you with resources so that you know what to ask and how to deal with installers.