During the COVID-19 lock down some of us learned to cook, some of us got into crafting and some of us built a replica Egyptian style wooden solar boat.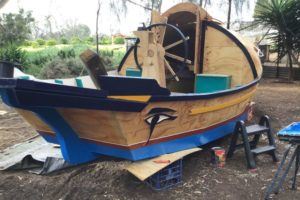 Like many people, Tuesday Browell was looking for something to do during this year's COVID-19 lockdown period.
But instead of turning to a new language or baking cookies, the Echuca woman decided to build a solar powered felucca and set sail down the Murray River for its first-ever renewable voyage.
What Is A Felucca?
With the help of a friend, Browell constructed the historic two sleeper using just plywood from Bunnings.
Measuring 8.5 meters long and 2.4 meters wide the vessel comes with a small gally and an inbuilt gas stove.
Modelled on a traditional felucca (a Mediterranean style wooden sailing boat with two lateen sails) Browell, hopes to inspire others to consider solar-powered transport.
As explained by Ms Browell, "it is solar powered with an electric motor, so it's low and slow, like the river, the Murry River flows so slowly compared to lots of other rivers, and it just suits that type of river."
"It is brilliant. You can sneak up, just silently cruise up to birds in a nest, you can cruise into the shore very quietly, you can sail past people and they don't even know you are there."
"I am so proud of myself because I decided I needed to walk the talk, you know, instead of going fossil fuel, and I want to encourage other people to do that on the river," Browell said.
Why Going Solar Boating Is A Good Idea
Big petrol motors and noisy jet skis often pollute and destroy the delicate ecosystems of the Murray River. Over 8 tonnes of CO2 emissions per year can be produced just from a small river motorboat.
Ms Browell's switch to an entirely solar design comes after her petrol motor broke down.
"[It] had a traditional motor, it kept breaking, down and I had nothing but trouble with the fuel systems, so I thought this is it, I am going to get a solar powered boat."Ms Browells said.
With a bright colour scheme and a big Egyptian eye painted on the port, Ms Browells hopes to see a more diverse range of watercraft's along the river.
"I think we need some design innovation on this river, you know, we've got houseboats that are all white, all square and all looking the same."
Rooftop Solar Powered Houses
If you aren't committed to building yourself a solar powered boat you can still utilise solar energy in other ways to reduce your carbon footprint.
Solar Market connects you with 3 CEC accredited solar panel installers so that you can save on your energy bills and switch to clean energy.
If you're ready to take reducing your power bills seriously, get 3 complimentary solar quotes now and invest in your future.