In February we reached out to customers who had requested solar quotes from us in 2018 and asked them to shed some light on their experience with our service, the solar industry as well as their current solar situation and opinions on solar and battery. A total of 1,568 responded to our survey which we ran for a month.
Here are some of our findings.
Most Popular Size Solar System For 2018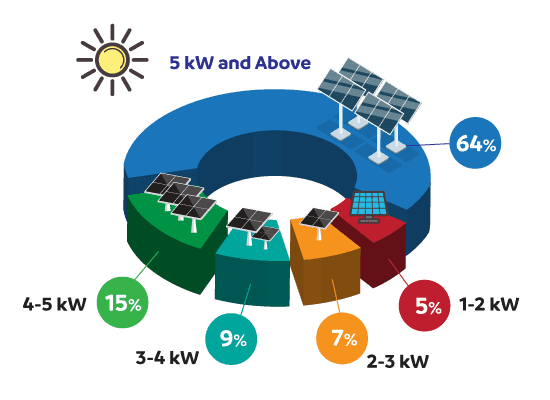 Of the respondents who had installed solar we found the most popular size system to install in 2018 was by far a 5 kW system or above. This is not surprising considering a 5-6 kW system can produce up to 24 kilowatt-hours of electricity a day, which is a sufficient amount to run the average Australian household.
The assistance with Government Rebates and drop in solar system prices has also a made 5 kW system and above much more affordable. For a quality 5-6 kW system and installation prices average around $5,000-$6,000, with a return on investment within 3-5 years.
Satisfaction With Solar System After Installing
An overwhelming response of 89% of people who had installed in 2018 were happy with the purchase of their solar system. Many stating how pleased they were with the reduction of their electricity bills.
Approximately 25% of the respondents who had selected unhappy, did so due to wishing they had selected a larger system to cover more of their electricity bills. The majority of the remaining people who selected they were not happy with their solar system stated it was because of technical difficulties due to poor quality installs and lack of post customer service from an installer and not the system itself.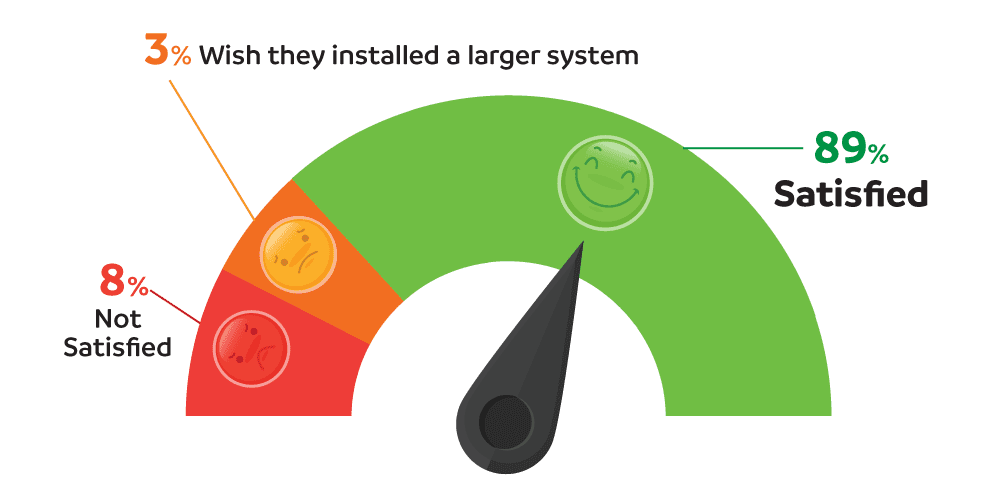 At Solar Market we refer only CEC accredited installers and recommend you do a thorough background check on the installers, providers and products in which you are comparing quotes. You can do this by looking online at past customer testimonials and using the following tips on our Choosing the Right Installer and Questions To Ask Installers pages.
Tip: If you think you should have opted for a larger size system or don't feel you're making the savings you should with your solar system, try these tips to maximise savings or determine whether it is time for you to replace or upgrade your system here.
Experience With The Installer

Solar Market

Referred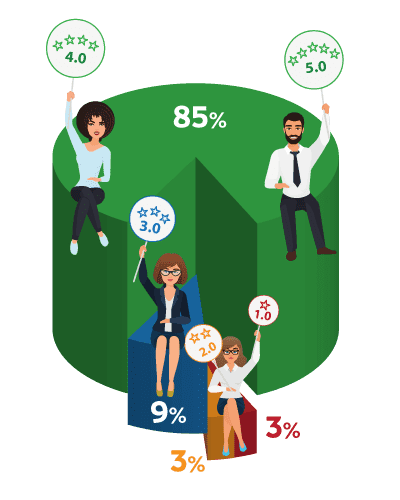 It was great to hear that the 85% of respondents who had installed with an installer Solar Market connected them with, rated their experience 4 stars or above out of 5. Feedback from customers suggested they were primarily happy with the communication pre and post purchase, the system provided and installation, competitive pricing, tailored quotes with home-site visits and the knowledgeable amount of information provided when asking the installer questions.
Customer Thoughts On Battery Storage
52% of our customers who had installed a solar system were interested in adding battery storage, either to their current solar system or when upgrading in the future. However, 85% of people would not pay more than $7,000 and 90% would be wanting a return on investment in 7 years or less. While price was a huge factor for our customers when considering to add battery storage; quality, return on investment and less reliance on the grid proved to be more important.
Maximum Amount Customers Would Be Willing To Pay For A Solar Battery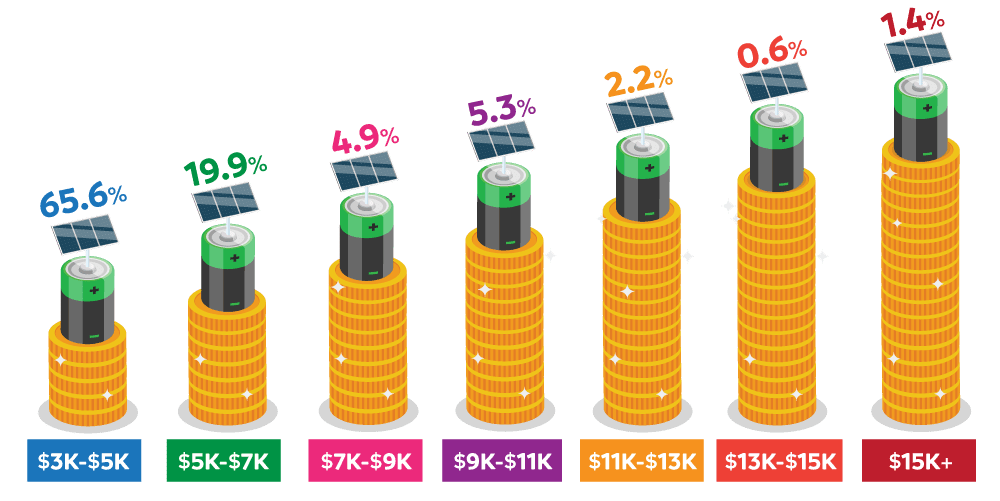 Payback Period Customers Would Be Happy With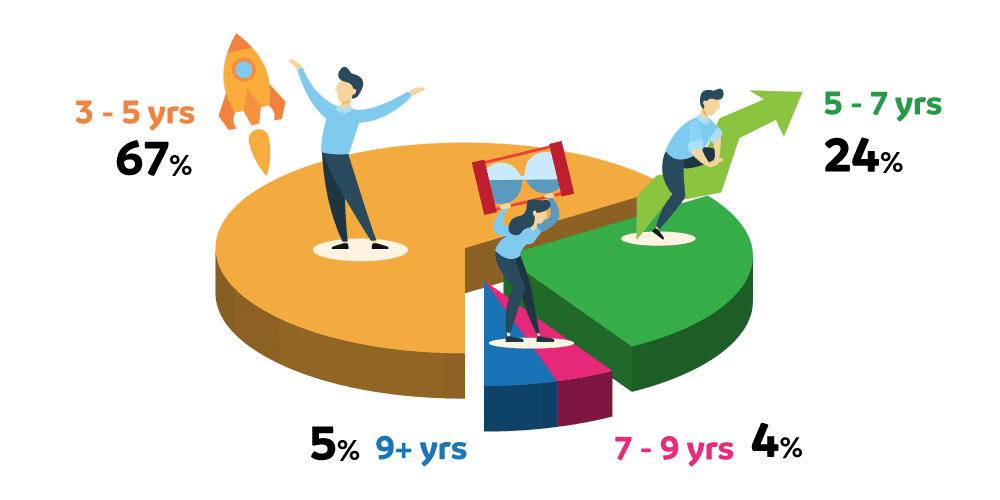 Most Important Factors To Customers When Considering Battery

Is It Time To Invest In Battery Storage?
Whilst battery is the next step to energy independence, today's prices (if your State does not offer subsidies or incentives for battery) could have you looking at an expected return on investment in 8-15 years. As technology advances and batteries become more accessible it is expected prices will drop, similar to how they have for solar systems.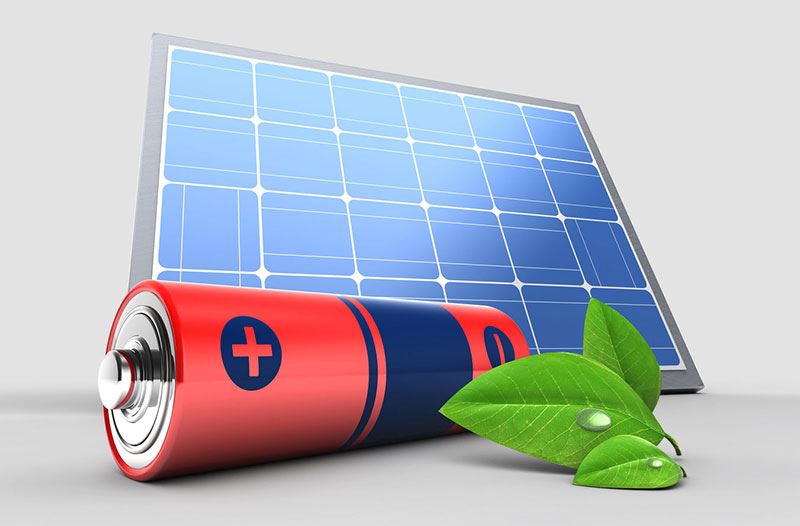 Households with solar systems that aren't generating a large amount of excess power may find it more cost-effective to receive the feed-in tariff rates for their excess power, instead of purchasing a battery. Those with larger sized solar systems that generate a substantial amount of excess power may opt to add battery and give themselves greater energy independence.
TIP: If you're interested in battery and yet to install a solar system or are looking to upgrade your system, you may want to consider a battery ready system. A battery ready system means a battery can be easily added to your system when or if you decide to add battery storage in the future, when prices and payback periods have lowered. These Battery ready systems are also known as Hybrid systems.
Solar Market Customers Who Requested Quotes But Are Still Yet To Install
Out of all the respondents to our survey only 28% of those did not follow through with installing a solar system after requesting quotes from us in 2018. Whilst reasons were varied the majority of customers who did not install after requesting quotes selected the following reasons;
I can't afford the outright cost to install
I'm waiting for batteries to become affordable so I can install with the solar system
Quotes I received to install were too expensive
I Can't Afford The Outright Cost To Install

Being unable to afford the upfront costs of a solar system and installation was the biggest de-motivator for those who requested quotes from us in 2018 and did not follow through with an installation. Thankfully these days there are ways of overcoming this obstacle and still reap the benefits of reduced power bills through installing solar. An option we recommend if your State Government does not offer interest free loans is a Green Loan.

A Green Loan is a low interest loan that is specifically designed for those wanting to invest in green projects. A Green Loan's low-interest rate means the savings you have accumulated from using your new solar system could potentially cover your loan repayments! A well-known and reputable name amongst the market is RateSetter who are supported by the Clean Energy Finance Corporation and offer rates as low as 6.9% p.a.

Read more on Green Loans and other Finance options here

I'm Waiting For Batteries To Become Affordable So I Can Install With The Solar System

Many homeowners in Australia are holding off from installing a solar system until batteries become more affordable so they can install a solar system with battery storage in one go. Whilst this might sound like the simplest option it's not the most cost-effective. This is due to the savings through reduced bills that you'll be missing out on whilst waiting for batteries to come down in price.

To avoid missing out on solar savings a proactive option would be to install a battery ready solar system without a battery and start reducing your electricity bills now. You can then add a battery in the future easily when they become more affordable.

Read our Blog "Should I Wait For Battery Prices To Drop Before Installing" to find out more.

Quotes I Received To Install Were Too Expensive

The price tag of any big purchase like a solar system can be daunting and be an immediate deterrent, however, a solar system should be viewed as a long-term investment for your household. These days solar systems have become quite an affordable and worthwhile investment with the assistance of Government Rebates as well as the drop in upfront costs for systems and installations in recent years.

If you combine these two factors with your potential electricity bill savings that you'll make from generating your own free energy and having less reliance on the grid, an average home with solar can expect a return on investment within 3-5 years. Considering a good quality solar system has a lifespan of 20-25 years, that's approximately 20 years of just savings!
If you're considering solar or battery you can find out more information in our Beginners Guide To Solar Power or start speaking to installers and receive obligation free quotes to start comparing your options!
Receive 3 Obligation Free Quotes From Local Providers