Whether you are moving homes or looking for a better deal the idea of switching energy providers can be scary. It is easy to just set and forget your electricity plan, and we get it, life can be busy, but could that convenience be costing you?
Why Switch Energy Providers?
We make it a habit to shop around for better deals every day so why are we so hesitant to shop around for a better electricity deal? Having the lights on and your gas running will always be an ongoing lifetime cost, so by shopping around for a better deal you could save thousands by the time you are looking to retire.
When benefit offers run out on your deal, your electricity bill can spike. Often big discounts are used to lure you in just for underlying prices to be increased without warning.
By researching new deals and evaluating your current plan you can stay on top of sneaky extra costs and save yourself a pretty penny too!
7 Steps To Help You Switch Energy Providers
1. Review your current exit fees
Before switching energy providers, review any exit fees that might be associated with ending your contract and factor this into the budget.
2. Compare deals
Have fun shopping around! Compare Energy Providers and find a better deal out there that meets your needs.
3. Talk to your current energy provider about a better deal
Let your current energy provider know that you are shopping around for a better deal and ask if they can do anything to help you stay? If not, then no worries, let's set you up with a new energy provider and a better deal.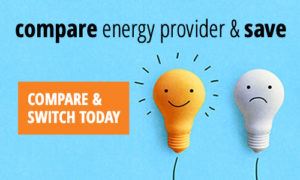 4. Switch providers
Great you have decided to make the switch! Just contact the new energy provider you would like to switch to and they will usually transition your account on your behalf. Easy peasy right!
Your old energy provider will send out someone to do a final meter reading on your account so that a final bill can be set up.
6. Your new account
Congratulations you have made the switch! After your final meter reading all new energy use should be charged at the new energy providers rate!
7. Don't set your energy provider and forget
Remember to regularly compare your energy provider with existing deals in the market.
Curious about what other deals are out there? Solar Market offers a free energy comparison tool to get you saving. Like any of the deals available? No problem, select the deal you are after and we can have you switched within minutes! Happy saving!