Today the Andrews Government of Victoria announced new changes to the Solar Homes Program including an increase in Solar PV rebates and the frequency of rebate releases to transition from monthly to fortnightly.
The decision for this came following pleas from the Victorian Solar industry and rallies held by the Smart Energy Council, who demanded a change to the program which has been causing an inconsistent and unsteady work flow in the industry, due to its limited number of rebates available each month and challenging rebate application process.
After the program had re-opened back in July, the monthly allocated solar PV rebates of 3,333 were snapped up within 3 days, which caused the solar industry to come to a complete stand still until the rebate resumed on August 1st which it was then exhausted in less than 2 hours.
The new Solar Homes Program changes will take place with the commencement of the program on September 2nd at 9am which will include the frequency of rebates increasing to twice a month (fortnightly).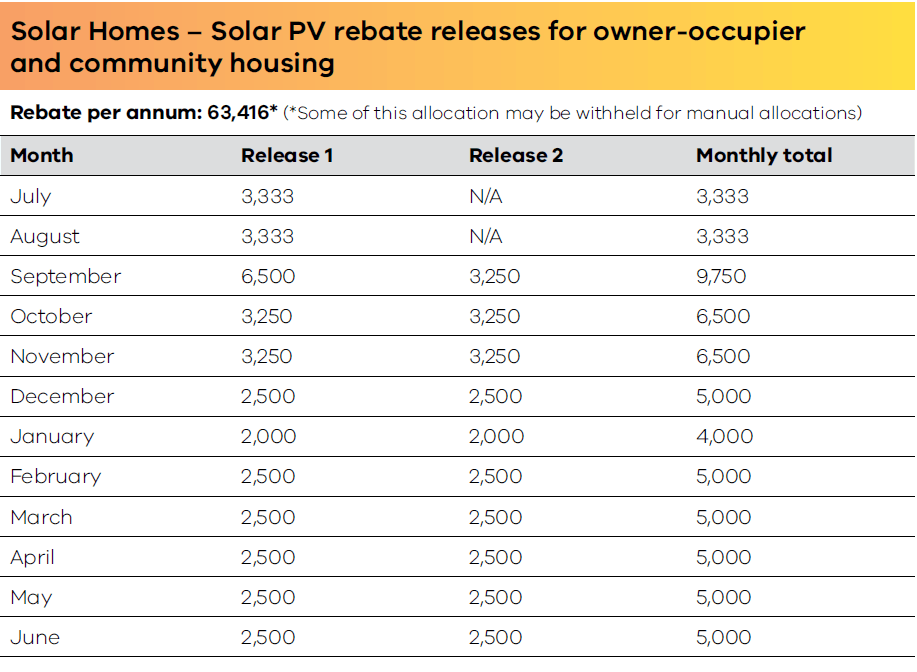 The first release of rebates for September will increase from 3,333 to 6,500 with the second release in September to be 3,250, totalling to a complete release of 9,750 for September alone.
Following months in this financial year will see a release ranging from 4,000 – 6,500 per month.
It has also been announced that within the monthly releases some rebates will be reserved for manual applications to cater for those who choose not to engage online. This follows after feedback that many consumers struggled with the smart phone application process, causing them to miss out on the rebate previously.
The Minister for Solar Homes, Lily D'Ambrosio, said expanding the program will boost installation rates in the lead-up to summer when maximum cost-cutting on energy bills can be delivered.
"We believe the government's decision to release close to three times the number of allocated rebates in September will help address the backlog of applications for rebates. This will help solar installers and businesses get back to what they do best – putting solar panels on the rooftops of Victorian families." Clean Energy Council Chief Executive Kane Thornton
Several more improvements to the Solar Homes Program have also been announced including:
retailers will soon be able to lodge final online quotes on the Solar Victoria portal at any time. This will apply from Thursday 29 August and will reduce pressure on them and the system when applications open each fortnight.
establishment of an Industry and Customer Reference Group as a commitment to strengthening our engagement with industry and to provide a conduit for their feedback to Solar Victoria
expansion of industry briefings and webinars
a business mentoring program to be conducted by Small Business Victoria
further increasing the emphasis on safety with more post-installation audits
As September approaches quickly it's advised to start speaking to solar providers and receiving quotes in preparation for the release of rebates next week.
Get Prepared For The September Release Of Rebates By Requesting Obligation FREE Quotes!