Tesla, Inc. was founded in 2003, formerly known as Tesla Motors. It's an American electric automobile company that was formed to prove that electric cars can be better. Today, Tesla is committed to generating clean energy and offering both commercial and home battery energy storage.
Most Popular Tesla Solar Product:
One of the most advanced home battery storage systems is the Tesla Powerwall 2. It's a DC energy storage system with a capacity of 13.5 kilowatt-hours per system. They can be installed in parallel so you can have multiple Powerwalls to provide even larger power support.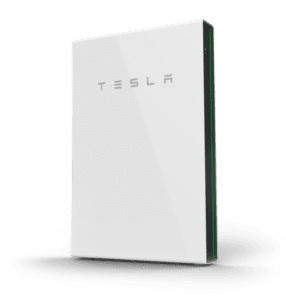 With Powerwall, a simple home can be a self-powering home. It will allow you to use more solar by storing all extra energy generated during the day and can be used to power your home at night.
During an event, Powerwall can provide you flawless backup power when a power outage occurs.
Powerwall should be installed in a location with an internet connection or cellular connection. It is recommended to have a reliable connection to receive software updates and provide new features of the product, and communicate with the Tesla mobile app.
You can add Powerwall with your existing solar system (Compatible with solar inverter from SMA, SolarEdge, Fronius, Enphase micro inverter, Delta and ABB)
An existing backup generator connected with an external Automatic Transfer Switch (ATS) or Manual Transfer Switch (MTS) can still add Powerwall which will be installed between the electrical service entrance and the transfer switch. By then, it can be charged from solar while the grid is working.
With every 7.6kW AC of solar with a backup circuit included, it requires at least 1 Powerwall to make sure a seamless operation during grid outages.
The main components of a Powerwall are Powerwall battery and Backup Gateway. The function of a Backup Gateway is to manage energy and provide metering and monitoring for Powerwall. It controls your home connection to the grid, and during a power outage, it safely disconnects your home to start backup operation. It also features a communication function that receives over-the-air systems updates for up to 10 Powerwalls.
Aside from Powerwall battery and a Backup Gateway, Powerwall installation includes standard electrical hardware like switchboards, conduit, junction boxes, or electrical disconnects depending on your particular installation and local electrical codes. Sometimes, there is an additional cost to hide a conduit and other electrical hardware within the wall.
Even a Powerwall is rated for indoors and outdoors installation, it is recommended to avoid installing them in locations exposed to direct sunlight, flooding, or near water sources. It is to maximize performance and maintain proper ventilation.
Powerwall can charge from the grid when it is in Back-up only mode or charge is below the average backup reserve. To maintain the ideal temperature range of the battery cells, Powerwall can make use of grid energy during cold situations.
If you own a Tesla vehicle or EV, your Powerwall can supply stored solar energy to your EV by way of a home electrical panel. Yet, Powerwall and EV wall connector has no direct connection.
Tesla SolarGlassRoof is a fully integrated design that makes solar to look beautiful for those who do not appreciate the look of a standard solar panel. It has a similar process for installing roofs with a bit of a blend of solar technology.
The good thing about Tesla products is that you can manage them anytime, anywhere using the Tesla app. You can change the mode of the Powerwall into Backup-only or Self-powered.
Using the Tesla app, you can monitor your Powerwall as long as it is connected to the internet. You can view your energy usage history and monitor your energy system.
Tesla app is available on both iPhone and Android. Download the app from the app store on your device and log in using your Tesla account information. There is a video tutorial that can guide you using the Tesla app.
The Power Flow in the app allows you to view real-time power generated from your solar system, stored and discharge energy from your Powerwall, and even the energy you used for your home.
What Sets Tesla Apart:
Tesla has a mobile app that enables you to manage your Powerwall from anywhere. Fun fact, it's the same application that is used to monitor Tesla vehicles. The app can monitor the current status of the Powerwall and can change its settings.
They have two categories of warranty. For homeowners that charge the Powerwall off solar power, they will fall into the first category of warranty. The warranty will last for 10 years and has unlimited cycles. While for homeowners that are allowed to charge their Powerwall with a source other than solar, warranty is limited to 10 years. While unlimited cycles sound great, most people fall into the second category.
The percentage of the capacity of a Powerwall 2 that can be discharged is 100%. This means that the 13.5kWh usable energy stored is fully usable to you, the Powerwall doesn't need to keep a reserve supply. Besides, a Powerwall can potentially run your home indefinitely when it is paired with solar as it will continue to recharge.
You can install the Powerwall outside due to it being water-resistant and dustproof.
What Should You Do?
The best way to get the solar panels that suit you is to compare quotes from multiple, experienced CEC accredited installers in your area. This is to ensure you are getting a system that is tailored to your needs and property, not what the installer wants to sell. It also means you find the best deal.
Solar Market partners with top solar installers across Australia and will match you up with 3 local solar installers so you can start saving on those dreaded power bills.
If you need more help, take our 2 min quiz to find out what kW solar panel system you need and the costs involved.
Are you looking at other solar panel brands?