There's been praise for the university of New South Wales' (UNSW) announcement to generate 100% of its electricity from renewable sources.
After four years of campaigning by staff and students, the university is set to be the first university in the world to fully divest from fossil fuels, and meet all of its energy needs using renewable power.
Achieving Carbon Neutral Status
A tripartite agreement was signed in mid-December by UNSW, Chinese renewable energy developer Maoneng Australia and electricity retailer Origin Energy. In itself an agreement between a private sector client, a retailer and developer is unprecedented and the first of its kind in Australia.
The solar supply agreement will run for 15 years starting from the beginning of 2019, and allows the annual purchase of 124,000 megawatt hours from Maoneng's Sunraysia Solar farm in South Western New South Wales.
The solar farm is due to begin construction later this year with energy generation expected to start in latter half of 2019.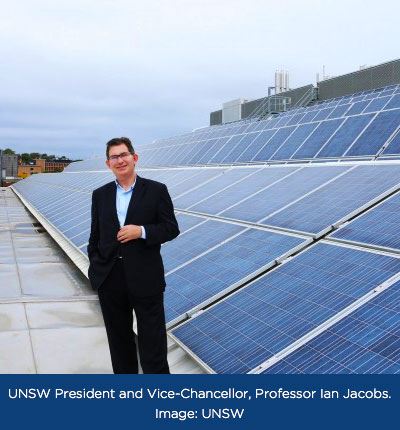 Positive Responses To Solar Energy
Climate activists are not the only ones to welcome the move by UNSW. New South Wales' minister for energy, Don Harwin, also gave it the thumbs up saying it was great for the environment and would bring jobs and investment to the region.
Students studying at Balranald Central School close to the solar farm will benefit too with an annual $10,000 scholarship included in the agreement to attend UNSW.
Ian Jacobs, the president and vice-chancellor of UNSW said the university's push to become carbon neutral was a "landmark initiative" and reflected UNSW's commitment to "making a positive global impact". He added that the carbon emission-free electricity supplies were at a cost that were economically and environmentally attractive.
Other universities in Australia are set to follow in UNSW's footsteps, including Monash University in Melbourne aiming to become carbon neutral by 2030.