In Australia homeowner-occupiers have had the opportunity of installing solar at reduced costs through receiving the Federal Government Rebate, as well as added subsidies and incentives offered in various states such as Victoria and Queensland.
However, with over 30% of private dwellings in Australia being rented out, a huge number of tenants have been missing out on reaping the benefits of solar and reducing their electricity bills. Despite the request of solar power systems at rental properties many landlords have been reluctant due to the upfront costs of installing and while installing solar can add value to a property, to many landlords it's not enough of an incentive.
In an effort to bridge this gap in the market the Queensland Government released a trial program earlier this year, which provides landlords with rebates to install solar power systems at their rental properties.
Queensland Solar For Renters Program
The Solar For Renters Program was launched back in March under the Affordable Energy Plan as a trial to the following areas in Queensland; Bundaberg, Gladstone and Townsville. The trial offers a rebate up to $3,500 (rebate is based on system size) which can be claimed in addition to the Federal Government Rebate.
To participate in the program landlords and tenants need to renew or enter into a new fixed term 12-month rental agreement showing a fair rent increase, to assist in covering the remaining costs of the solar system. This rent increase needs to be negotiated justly, so to not hinder the tenant's ability to save money and reduce living costs with solar.
Progress Report On Solar For Renters Program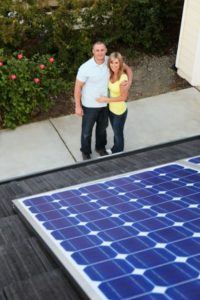 The Queensland Government announced an update this week stating the progress of the Solar For Renters Program since it's release 7 months ago. The report states that through the program there has already been $660,000 in rebates claimed, 192 solar PV systems installed and more than 580 landlords and tenants have registered their interest in the program.
The City of Townsville appears to be making the most of the trial with tenants and landlords teaming up to claim the rebate and reduce the upfront cost of installing solar, taking advantage of the 320 days of sunshine they have a year.
"Here in Townsville, more than 280 landlords have registered their interest to share rooftop solar with their tenants and 111 are already up and running" Minister for Natural Resources, Mines and Energy, The Honourable Dr Anthony Lynham.
Member of Townsville Scott Stewart is a strong advocate for the program and recommends residents to take part whilst it lasts.
"I'm urging Townsville residents today to get on board now. This is the chance for landlords and tenants to enjoy the same savings that more than 500,000 Queensland homeowners are enjoying.'' Scott Stewart, Member of Townsville.
The Solar for Renters Trial, funded under the Palaszczuk Government's Affordable Energy Plan, will close once available funding has been exhausted or on Tuesday 30 June 2020.
Solar For Rental Properties In Victoria
Solar Victoria also released a Solar For Rental Properties Rebate back in July, along other rebates and incentives under the Solar Homes Program. However, the structure of the rebate appears less successful than the Queensland's Solar For Renters Program.
Under Solar Victoria's Program 50,000 solar rebates for Victoria rental properties have been made available. Landlords are able to claim the rebate under one of the two streams;
Stream A – (Rebate only) gives landlords a rebate up to $2,225 (this amount reduces in 2020) towards a solar system for their rental property and then the landlord will be required to pay the rest.
Stream B – Offers both a rebate and an interest-free loan to landlords. This stream will be available to eligible landlords and tenants subject to the signing a Solar Homes Landlord Rebate and Loan Agreement between Landlord and Tenant(s). Under this stream the tenant(s) will contribute to the cost of the system. Stream B will open later in 2019/2020.
Learn more on the Solar Homes Program and Rebates Available Here.
All rebates under the Solar Homes Program can be claimed on top of the Federal Government Rebate.
Installers Must Be Accredited For Solar Power Rebates
To claim any rebates and incentives in Australia under the Federal Government Rebate and/or any State Government those wanting to install must engage with installers who are accredited under the Clean Energy Council (CEC). This is a requirement to ensure the solar power system and installation meets Australia's Quality and Performance standards and protect consumers from scams.
Receive Quotes From 3 Local CEC Accredited Installers And Compare Your Options, To Get The Best Deal And System For You!